Show Notes
You can read the full (auto-generated) transcript here.
---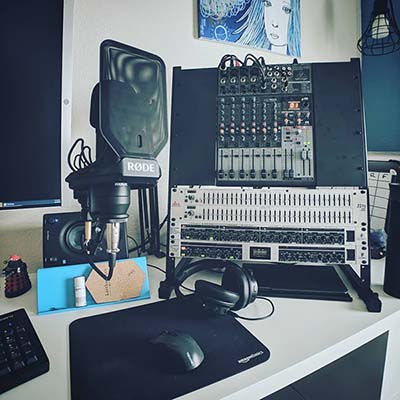 In July of 2018, Ryan was interviewed about this podcast and podcasting in general by Janet Smith in the Office of Digital Learning at the University of Arizona. It was in front of an audience of faculty and staff that wanted to learn more about podcasts and using them in their classes, to support students, and more.
I apologize for the audio quality on my end. The microphone was either positioned improperly or had some other kind of problem. It's understandable but isn't great. (Which makes for a pretty entertaining auto transcript.)
In lieu of a picture of Janet and me (which I didn't get), here's a picture of part of my home studio, which I used to record the intro to this episode. Not bad, huh?
---
Thanks for listening!
I would love to hear from you. You can find TNP on Twitter at @newprofcast and Ryan at @ryanstraight. You can also email the podcast at podcast@thenewprofessor.com.